JVS SoCal Women's Leadership Network
Making a Difference in the Lives of Women
The JVS SoCal Women's Leadership Network (WLN) is a philanthropic membership group dedicated to serving women in career crisis or transition, including women launching their careers. The WLN works to sustain, expand and enhance JVS SoCal's comprehensive array of programs that positively impact the future of women and families of diverse backgrounds throughout Southern California. The WLN offers a range of networking opportunities for its dynamic membership and sponsors an innovative and inspiring women's conference each year that is open to the public.
The WLN is comprised of women in fields ranging from law, business, entertainment, nonprofit, marketing and event production to public service, finance, art and real estate. Our network includes female professionals and leaders established in their industries and communities, as well as retired executives and philanthropists. What we share is our dedication to making a difference in the lives of women in need.
The JVS SoCal Women's Leadership Network sponsors the Annual Woman to Woman Conference, now in its 11th year. This exciting event features accomplished speakers and offers women of diverse backgrounds networking opportunities and inspiration to tear down barriers to success while raising awareness and critical funding to sustain JVS SoCal programs serving women.
If you are interested in attending or learning more about the 11th Annual Woman to Woman Conference, Please Click Here
OUR FOUNDERS
DEBBIE POWELL, JUDY F. ROSENBERG AND EILEEN COSKEY FRACCHIA
The WLN was founded by three friends who were passionate about supporting JVS SoCal's innovative WoMentoring Program. These three accomplished, philanthropic leaders – Debbie Powell, Judy F. Rosenberg and Eileen Coskey Fracchia– were inspired by the stories of women beginning new life-changing careers and decided to start a giving circle to underwrite the program. In 2013 they organized the first WLN Woman to Woman Conference, which has since expanded its scope and raised over $5 million for numerous JVS SoCal programs serving women.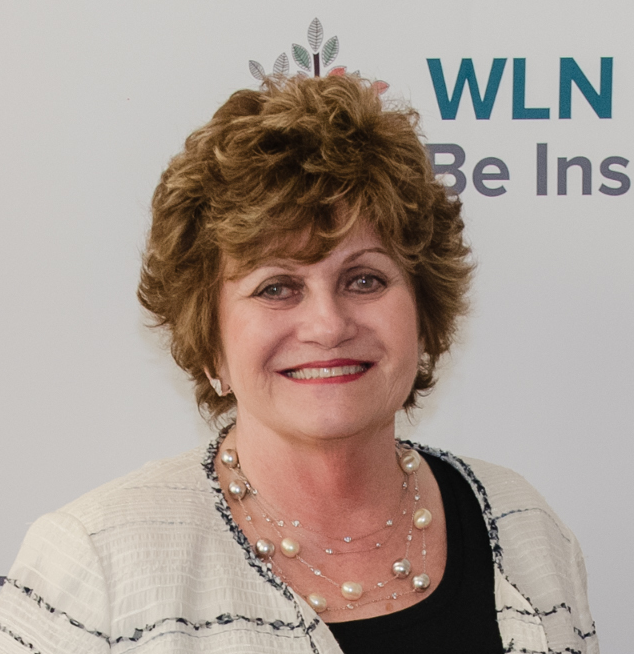 Membership: Become a WLN Ambassador
WLN Ambassadors advocate on behalf of the women JVS SoCal serves by fundraising, volunteering, and promoting community awareness of JVS SoCal's life-changing career development programs. We invite you to join this group of inspirational women all dedicated to empowering women to achieve career and personal success.
By making a $1,000 tax-deductible donation, WLN Ambassadors:
Change women's lives by supporting JVS SoCal's career development, training, and mentoring programs and communicating this mission to your community
Connect at member-only events with like-minded women
Receive one ticket to the annual WLN Woman to Woman Conference
Gain recognition on our Conference webpage
Learn updates on your impact through WLN e-newsletters
Receive invitations to attend member events and inspiring client graduations
If you are interested in serving as a WLN ambassador, please  contact Zsofia Szlovak at 
Recent event where WLN Ambassadors had the opportunity to meet with Lisa See and received an autographed book.
Whose lives will you change?
Volunteer with this dynamic group to empower women in the workplace. Help change women's lives. Contact us to learn more about these engagement opportunities:
Mentor women facing career challenges
Provide information to women job seekers entering your field
Provide resume feedback
Conduct mock interviews to help improve communication skills
Assure the continuation of mentorship, job training and placement programs, through fundraising efforts
Experience JVS SoCal's job seeking assistance through a personal tour of a WorkSource Center
Support our graduates by attending a JVSWorks graduation
 To discuss your volunteering goals and explore becoming a part of this dynamic group, please contact:
Zsofia Szlovak
Donor Groups Coordinator
Direct Line: 323-761-8897

The JVS SoCal Women's Leadership Network provides support for existing career training and mentoring programs to assist women from underserved communities.
"I was able to secure employment less than three days after graduation. Even though I had barriers and obstacles, I was still able to pursue what I wanted to. And I could not have done that without the help of JVS SoCal – who change people not just for now, but for generations."
"Financial stability is an ongoing goal for me, and CareerWork$ Medical linked me to a job that provided that for me." Of her job at Children's Hospital, she says, "I love what I do, being able to do things for people and help them advance. I love uplifting people. There's hope out there, you just have to want it and be open to opportunities."
WLN Impact Grants provide urgent financial assistance to women in need throughout JVS SoCal's extensive array of programs. These grants help with career training, educational programs or other assistance related to advancing their professional goals. WLN Impact Grants are relatively small but impactful and serve to eliminate any remaining barriers to employment or career development.
"I could not be thankful enough for the springboard that the WoMentoring program provided. Thank you for believing in me when I could not even believe in myself. I wish to carry on this virtue and become a career counselor that can ignite this light for many more immigrants, refuges, or any member of the marginalized community that I will work with in the future."
"Meeting an amazing woman in the career I want to pursue was such a life-changing moment for me. I am working now in the career I want to be working in. Thank you so much. You really are changing lives."
WLN Executive Council Members
Joan August
Linda Brown
Alexandra Carter
Jane Z. Cohen
Eileen Coskey Fracchia*
Ellie Heisler
Lauren Kurzweil**
Barbara Leanse
Teresa Nathanson
Debbie Powell*
D'Angela Proctor
Judy Flesh Rosenberg*
Trinka Soloway
Leslie Spivak
*WLN Co-Founders        **Chair
Don't miss our latest news, announcements, and blog posts. Get occasional email updates sent direct to your inbox.