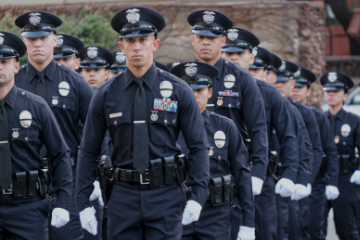 John Gutierrez, Deputy Director of Veteran Services, has continued to service clients and find opportunities to work with our community and employment partners. One of Veteran Services' largest employer partners is LAPD, who hired over 55 Veterans from our program in 2019.
The LAPD Academy recently had a graduation ceremony for 38 new officers, 9 of which were from our Veteran Services program. Chief Michael Moore presided over the ceremony and Los Angeles Mayor Eric Garcetti delivered remarks to a fresh batch of officers hitting the street to keep our communities safe.
"Now more than ever, there is a need for Officers," said Gutierrez. "The LAPD are First Responders preventing other crises from happening and keeping crime down. They are also enforcing the stay at home order, which is critical to preventing the spread of COVID-19."
The LAPD Academy anticipates starting its next cadet training on April 8th. The Veteran Services team expects at least six clients from their program will participate and potentially more with the increased demand for Officers.
"Our team is still operational and committed to meeting the needs of our clients and community partners," said Gutierrez. "The cadets go through six months of rigorous training and we need to be there to support them or pick them up if they can't complete the training and provide them with the resources they need to get back on their feet. We are here for them, today, tomorrow and in the months to come. These services are only possible thanks to public-corporate-philanthropic partnerships."